Welcome to the website of Drumreagh Presbyterian Church in Bendooragh, Ballymoney.
The Session are working hard at the minute to prepare the church and put procedures in place in order that we can meet together safely. There will be a series of announcements and videos over the next week - here on our own website and Facebook - showing you what has been done and how church will be different for the foreseeable future. 
We are planning to broadcast our morning service live each Sunday morning at noon on Facebook, Youtube and drumreagh.org for those who are shielding or are unable to join with us in person. Dial A Sermon will also continue and it is planned that the Drumreagh Drive In will continue until the end of August. The Midweek Bible Study has now finished until September but there will be a Virtual Prayer Meeting via Zoom at 8pm each Wednesday evening during July and August.
Please keep checking back either here or on Facebook to keep up to date with current plans.
Church Reopening 5th July 2020
A walk through of how church will work for the foreseeable future.
Drumreagh Drive In Church
 The Drive In Church will be starting on 7th June 2020 at 7 pm in the carpark opposite the church. The service will last approximately 40 minutes and there will stewards on hand to direct you into a parking place. There will also be an opportunity to give in your FWO envelopes etc. 
Drumreagh Dial A Sermon
 Drumreagh Dial a Sermon is available for the cost of a local phone call. The service is updated weekly at 1pm on a Sunday when the latest sermon is made available. To connect to this service just call
Midweek Bible Study
The Midweek Bible Study has now finished for the summer months and we are planning to return to our normal Midweek Meeting on Wednesday 2nd September at 8pm in the church. More details will follow later.
Midweek Prayer Meeting
Our Midweek Prayer Meeting is continuing through the months of July and August as a virtual prayer meeting at 8pm via the Zoom platform. To take part you will need to install Zoom software onto your device.
Meeting ID 672 302 3873
CD Ministry
The CD ministry is still ongoing for everyone who has ordered CD's. The CD's are placed in a box outside the front door of the church and are available for collection after the Sunday morning service. If you would like to add your name to the list please contact the Treasurer on 07740 173950.
CEF Camp
CEF of Ireland in this 'North East Ulster Area' are planning to do an online 'camp at home' this year.  We obviously can't give the full camp experience, but are going to try and do some elements so the children can 'meet up with friends'.  This will take place during what would have been our camp week 12th - 17th July.  This is for children who have finished p4 up to those who have finished year 10.
What will this look like?  In the morning there will be a 30 minute video to watch, there will be activities for the afternoon to get involved in, and a zoom call in the evening for everyone to catch up.
At this point, if you are interested in your child / children being involved, please send your email address to Grace Chambers (CEF) on 07702401528.  She will then send you further information, as well as permission slips.
All pastoral visitations from Rev. Murray, Rev. Lindsay, R Morrison and members of Kirk Session have stopped until further notice. If you need to talk to Rev. Murray please feel free to phone on 028 2723 8314.
 We would ask you to check this page on our website and our main Facebook page to keep up to date with the latest information.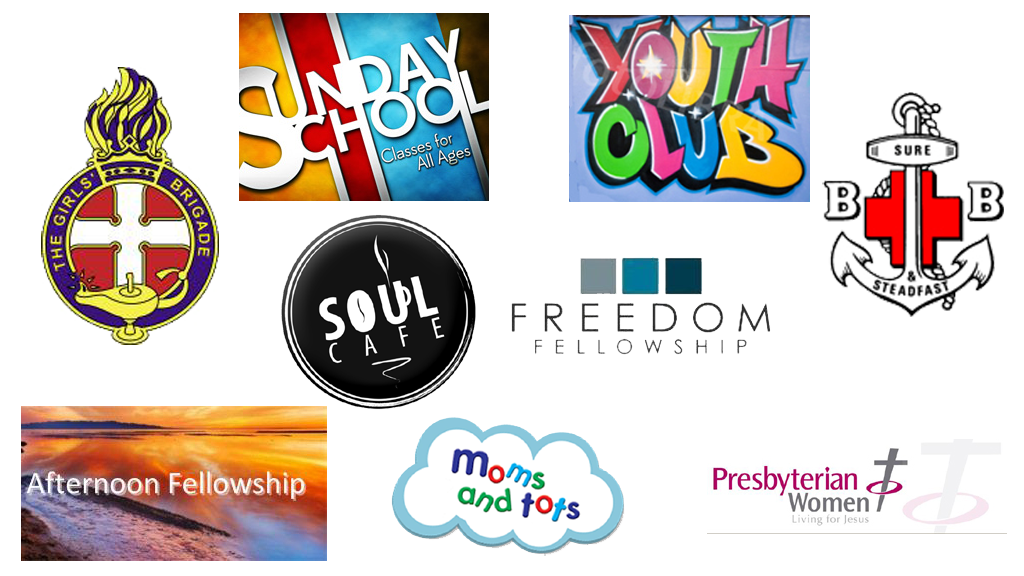 Times of Service
Sunday 12 noon
Sunday 6.30 p.m.
Bible Study & Prayer
Wednesday 8.00 p.m
Prayer Times
Sunday 11.15 a.m.
Sunday 6.00 p.m.
Monday 8.30 p.m.
Wednesday 8.00 p.m.
Saturday 7.30 a.m.
Girls' Brigade
Friday Night
Explorers 6.15 - 7.30 p.m.
Company Section 7.30 - 9.15 p.m.
Sunday School
Sunday 10.45 a.m.
Freedom Fellowship
(All year 8+)
Sunday 7.45 - 9.15 p.m.
Junior Youth Club
Saturday 6.00 - 7.30 p.m.
The Source
Saturday 7.45 - 9.45 p.m.
Afternoon Fellowship
Presbyterian Woman